First bullet for Bullitt as Svea and Spirit of Lorina remain unbeaten at Maxi Yacht Rolex Cup
6 September 2023

For day three of the Maxi Yacht Rolex Cup, organised by the Yacht Club Costa Smeralda in conjunction with the International Maxi Association, the wind on the Costa Smeralda was still from the north but marginally lighter (12-16 knots) than Tuesday. The sea was flatter, albeit with the occasional large, left-over waves ready to drench any unwary crew.

With the wind due to lighten in the afternoon, start times were advanced by an hour and a 26 mile course was set for Maxi C, anti-clockwise around La Maddalena. The remaining classes sailed a similar 30 mile lap, rounding Spargi too. The Js raced two further windward-leewards.

At just over the half way stage of the event some are already looking invincible at the top of their classes; others less so.

In Maxi B, the former Maxi 72s now have a tie at the top after four races, including two windward-leewards. After finishing close to yesterday's winner George Sakellaris' Proteus, Hap Fauth's Bella Mente finally prevailed today.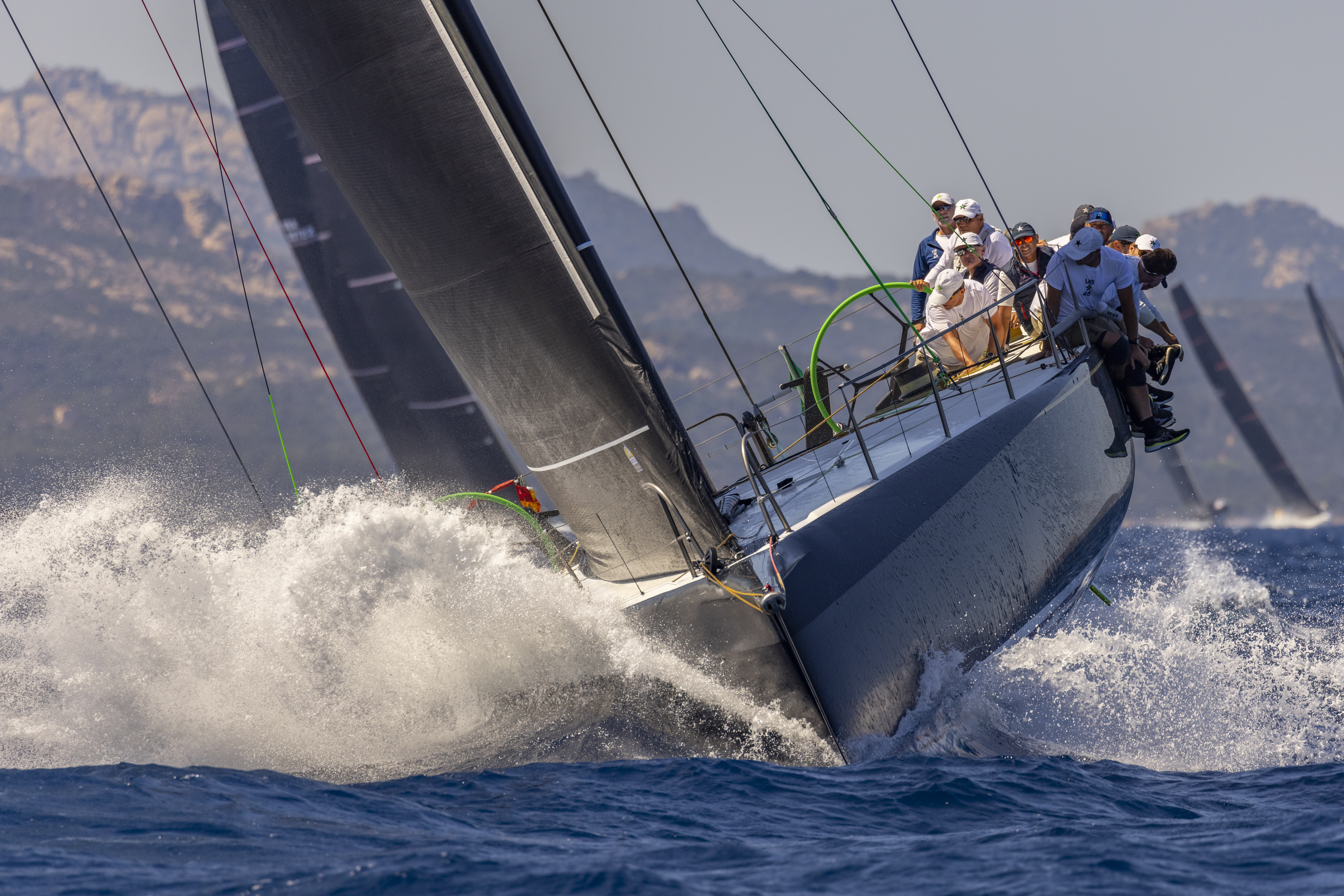 "We like these conditions. Tactically we didn't go in the wrong place like we did yesterday. We had a spinnaker blow-out, but the boys did a fantastic dry peel," observed Fauth. His tactician Terry Hutchinson, taking time off from Fauth's American Magic America's Cup challenge, added: "We got a good start to leeward of the group. The fleet was taking a bit of right so we changed our plan with two minutes to go and decided to start to the left. Once we led around the top mark it was simply a case of letting the boat do the work for you." Today Bella Mente beat Proteus by two minutes 56 seconds under IRC.
Claus-Peter Offen's y3k secured her second victory in the Super Maxi class, this time by one minute from Marco Vogele's 111ft Inoui. The brand new 101 footer leads overall by just one point from Inoui, which has finished second in every race. "It is Groundhog Day," observed Chris Main, tactician on Inoui, which is back at the Maxi Yacht Rolex Cup for the first time since 2019. "The boat is going great. The owner enjoys the racing, the whole concept. There is no pressure."
Juan Ball's Swan 115 Moat won Super Maxi yesterday but could only manage third today. Tactician Guillermo Parada (a YCCS favourite having helmed their TP52 Azzurra for a decade) said of today's race: "It wasn't the best day for us: The course didn't suit us because there was only one beat and then there weren't a lot of options. y3k did a good job keeping close to us - at times they were even catching us. I hope we can do better over the next days."
The Maxi Multihull class was back up to three. Irvine Laidlaw's brand new Gunboat 80 Highland Fling 18 returned to the race course guns blazing, the red catamaran scoring her first ever bullet, albeit by just 14 seconds from Adrian Keller's 84ft catamaran Allegra, which still leads the new class with a near perfect scoreline.
"The course we had today was just fabulous," said Laidlaw. "Particularly of course it suited the cats very well because it was a lot of reaching, but still we changed sails all the time. It had a bit of everything - the wind was fantastic and the competition was really good. So a great day."
Another to score her first bullet today was…Bullitt, Andrea Recordati's 93 footer, although the highly consistent 2-3-2 of David M Leuschen and Chris Flowers' Galateia has caused their white 100 footer to take the lead in Maxi A. She is now four points ahead of previous leader Leopard 3, which today finished a disappointing eighth after suffering problems with their spinnaker furler.
"The first upwind was key, to hold our position with Galateia and V and get to the top mark close to them," explained Bullitt's tactician Joca Signorini. "From there we sailed the boat to its best potential. The guys did an amazing job in all the manoeuvres, sailing the boat very fast as well. Some boats had issues and we had to sail around them while Magic Carpet was behind us, attacking. After that it was a bit easier." This is Bullitt's first event following a substantial refit. Signorini added that it was the first occasion this week they have enjoyed a trouble-free race (on Monday they retired with engine/hydraulic issues).
The newly formed V team on the ex-Tango 100 footer, is currently fifth in Maxi A, despite her new owner being brand new to racing. "He is having an absolute blast," said tactician Ken Read. "It is an okay performance so far, but in terms of his program it is spectacular. We are really pleased."
Of today's race Read said: "We started at the weather end - previously we have been down towards the pin and could never cross. We wanted to get to the right, so we had a good first beat and were first around the weather mark." He added: "We have an Achilles' heel reaching and we've had three reaching races. The boat was designed to be a light air windward-leeward boat with very little rocker."
In Maxi C, Jean-Pierre Barjon 65ft Spirit of Lorina maintained her perfect scoreline finishing ahead of the 78ft H2O by almost five minutes under IRC. With her string of seconds, H2O remains second with Aldo Parisotto's Mylius 65FD Oscar 3 third, but just two points ahead Massimiliano Florio's Southern Wind 82 Grande Orazio. IMA President Benoît de Froidmont's 60ft Wallyño salvaged a creditable 7th in the 16 boat class after being called OCS.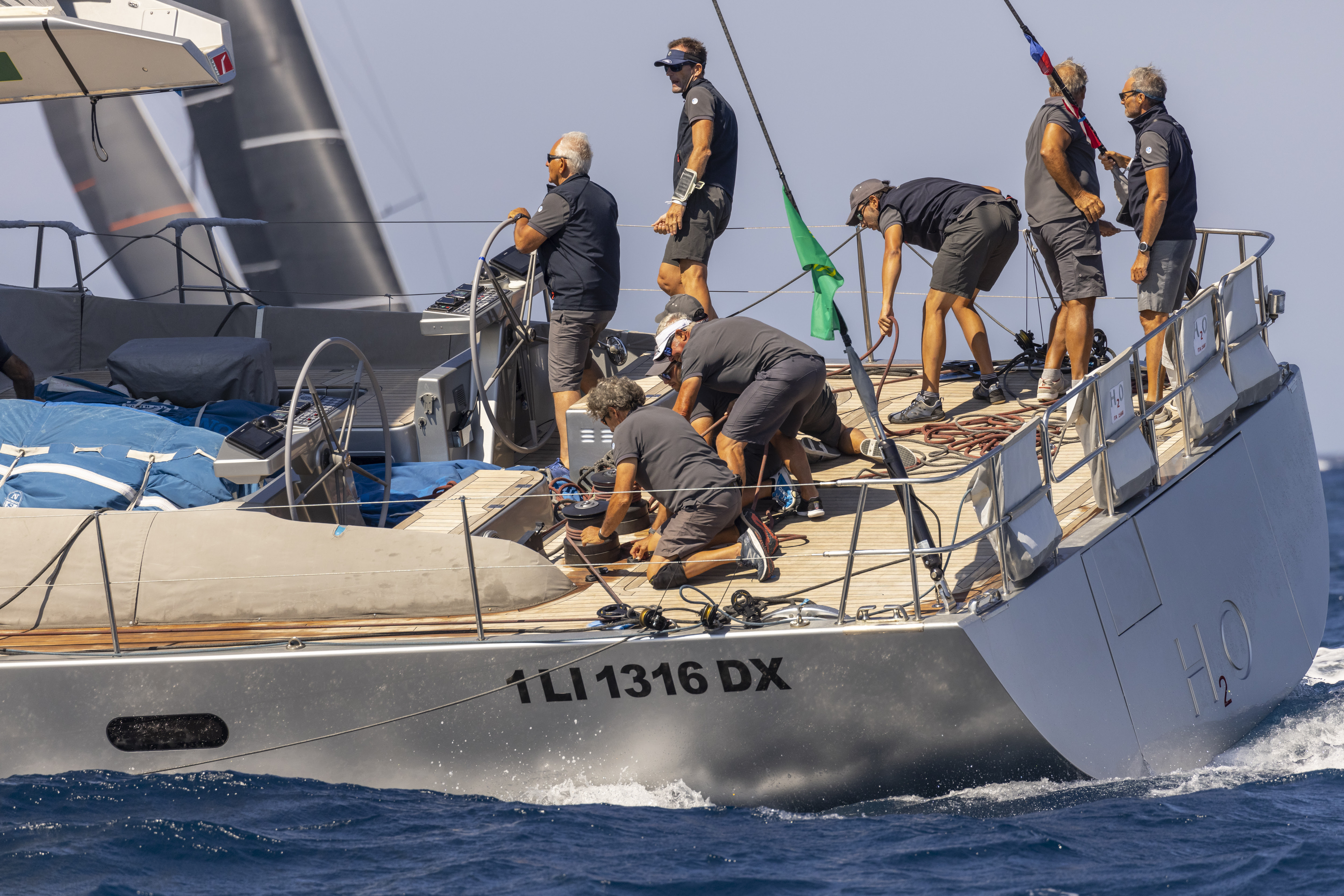 While H2O won here last year with straight bullets, they are scratching their heads as to how Spirit of Lorina is so dominant this week. "The course over the last three days we have had the same [reaching] angles," observed H2O's owner Riccardo De Michele, who has competed in every Maxi Yacht Rolex Cup since 2007, winning class five times– certainly the most capped and most consistently successful competitor here ever. This is due to their well-developed yacht, the team effectively run by Stefano Leonardi, still with 70% of her original crew. "Spirit of Lorina and ourselves have a small advantage over the other boats reaching, but we are two completely different types of boat in terms of our performance: Lorina is more racer than cruiser compared to us." Today the French boat beat them by almost five minutes under IRC.
The Js raced two more windward-leewards with Niklas Zennström and Filip Engelbert's 43.6m Svea, winning both to maintain their perfect scoreline. Neither race was perfect for the Swedes – in the first, approaching the first top mark, they blew up a jib; in the second they didn't get the ideal start, so vital in these races.
"It was windier than we thought it would be - it almost built," said Svea's navigator/strategist Steve Hayles. "It is fun, the three boats having a small rating difference. We are still learning - I feel lucky to have Bouwe [Bekking, J Class World Champion] here, but it hasn't been straightforward - a couple of things have gone our way which could have gone another way…"
Tonight is the annual IMA Member's Dinner at the YCCS in Porto Cervo where the 2022-23 IMA Mediterranean Maxi Offshore Challenge winner will be presented with their trophy. Tomorrow is layday at the Maxi Yacht Rolex Cup with racing set to resume with a lighter forecast on Friday and Saturday.
by James Boyd / International Maxi Association