Maxi Yacht Rolex Cup confirmed to take place from August 30 to September 4
Porto Cervo, 30 June 2020

The Yacht Club Costa Smeralda in agreement with Nautor's Swan shipyard and the International Maxi Association, and with the approval of institutional partner Rolex, has confirmed that the traditional September regattas, the Maxi Yacht Rolex Cup and Rolex Swan Cup, will take place as originally scheduled.
Due to the pandemic, the regattas will be held in a modified mode: registration procedures will be streamlined through digital channels, the skippers' briefing and the prizegiving - which will take place outdoors - will involve a limited number of crew members in proportion to the spaces. With regard to social events, it will be possible to hold the traditional owners' dinners at the YCCS respecting the necessary distancing, while it will not be possible to organise crew parties. It has also been decided to cancel the lay day during the Maxi Yacht Rolex Cup, which will therefore take place from Sunday 30 August to Friday 4 September. This will concentrate the sporting competition and will leave two days of separation before the start of the Rolex Swan Cup, in order to minimise the presence of teams and boats from the two events at the same time.
The Coppa Europa Smeralda 888 (3-5 July) will open the sporting season, while the traditional YCCS Members' Championship is confirmed for 2 August, as per the calendar.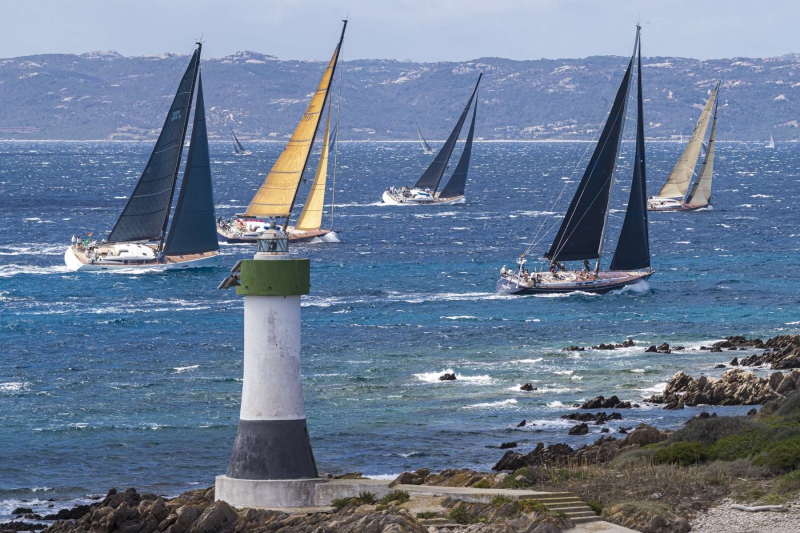 Maxi Yacht Rolex Cup 2019. Photo credit: Rolex/Studio Borlenghi

In order to ensure optimal organisation and safety for participants in the regattas, club members, and visitors to the YCCS facilities, the evolution of government regulations and the protocols of the Italian Sailing Federation will, however, be constantly monitored, together with the development of the Covid-19 emergency.
The Commodore of the Yacht Club Costa Smeralda, Riccardo Bonadeo, commented: "We waited cautiously until the end of June to carefully consider the various factors and once again, by confirming the traditional regattas in September, we wish to reaffirm our determination to face this challenge. Of course, we will continue to assess the situation and adapt our sporting events to ensure maximum safety. I would like to thank our long-standing partner Rolex, who continues to support us through this unprecedented situation. My thanks also go to Nautor's Swan and the International Maxi Association who share the confident yet prudent spirit that will enable us to cooperate optimally to make the September events as special as always, in a new way. I would also like to dedicate a thought to the many owners, crews and sailors who will join us in Porto Cervo, animated by a passion for sailing and the sea. We are all in the same boat and collaborating like a real crew will be fundamental for the safety of all and the consequent success of the events."
Information on any developments regarding the activities of the YCCS in relation to the Covid-19 crisis will be published in the dedicated section of the YCCS website (www.yccs.com)
Source: YCCS Press office
(Marialisa Panu/Giuliano Luzzatto)
Tel. +39 0789 902223