Great Dane goes maxi racing: Jens Christensen
6 July, 2020

While Ken Read and Tom Whidden are the most familiar North Sails figures in maxi yachting circles, from the European side of the operation a leading figure, with a track record almost as long, is Dane Jens Christensen.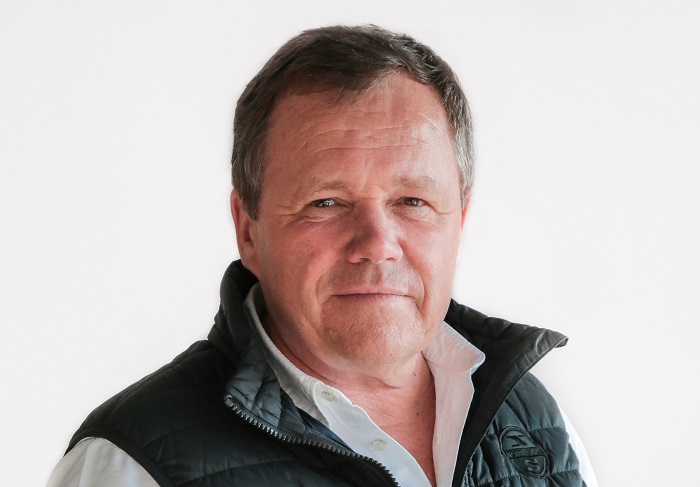 Since 2014, when Peter Dubens' Oakley Capital became majority shareholder in the amalgamated North Sails Europe and North Technology Group (NTG), Christensen has been Executive Vice President of North Sails, on the company's executive committee and an NTG board member. He is a regular on the maxi circuit, and is one of the longest serving crew on board Jean-Charles Decaux's Wally 77 J One or Hasso Plattner's Baltic 147 Visione. He is also the proud father of Jonas Høgh-Christensen, the Olympic Finn silver medallist at London 2012, now Manager of the Danish SailGP team.
Heralding from just outside Copenhagen, Christensen didn't come from a sailing family but had friends who did and his grandparents lived conveniently close to Hellerup Sailing Club, where he began sailing aged nine. "I walked down the dock and there was a famous Dragon sailor called Alex Holm who asked me if I wanted to come sailing. We went out to test a new genoa and we sailed up and down the coast. I had some water and he had a glass bottle of beer. Then he took out his shotgun (because he was also hunting) and shot the bottle in the water! I was very impressed by that".
Personally for Christensen the Dragon remains one of his favourite boats but in his youth he was also a keen 505 sailor and during the early 1980s was twice world champion in the Danish-dominated H Boat. Pre-empting his son, he also represented Denmark at the Moscow Olympics in 1980 when in a depleted fleet, due to the boycott, he and Morten Nielsen finished fifth.
A major influence of course for any up and coming sailing Dane was Olympic great Paul Elvstrøm. "Paul was always a hero for all of us," Christensen recalls. "He lived a mile down the coast in a house with its own pontoon. We sailed past his house almost every day and you could see what he was doing." The great man's presence attracted top sailors to Hellerup, among them double Olympic Soling Gold medallist and future Dragon champion Poul Richard Høj Jensen. Occasionally Christensen be part of Elvstrøm's training group: "The worst part was racing against Paul in the winter time if he was slow, because he would stay on one tack until he was as fast as the rest of the guys. Sometimes after you'd been on the same tack for 45 minutes in 0°C, we would slow down to make him seem fast because it was so cold! But it was good fun and we learned a lot."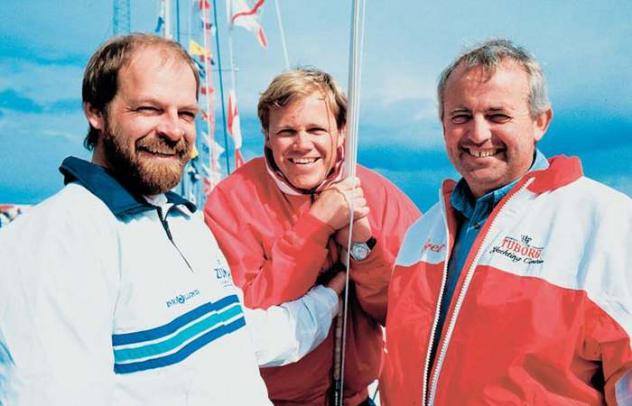 Christensen became a sailmaker when he joined Hans Fogh and Pol-Richard Hog Jensen in the Danish Olympians' loft in 1975. Five years later this merged with Elvstrom Sails, but Christensen with Ib Ussing Andersen and designer Henrik Soderlund and decided to start for themselves, establishing Diamond Sailmakers.
At this time Danish sailors were beginning to embrace keelboat racing but the yachts were tiny: "Old time One Tonners were 35ft long and were considered BIG boats!" Boat builders such as X-Yachts had also recently been set up and first attempts were being made to race bigger boats internationally. After a successful stint in the ¾ Ton class, Christensen and his partners at Diamond Sailmakers were involved in four Danish Admiral's Cup campaigns in the late 1980s, culminating in their team almost winning in 1989 when they fielded three IOR 50s. From here Christensen, who typically sailed as tactician on board, jumped ship to join Hans-Otto Schümann's Rubin in the early 1990s culminating in the German team's Admiral's Cup victory in 1993 and their Sardinia Cup win.
In terms of maxis and superyachts, Christensen has had a long involvement as a sailmaker. His first came in the mid to late 1990s with former Admiral's Cup competitor Albert Buell and his 112ft Judel-Vrolijk designed Huisman built Saudade (now Billy Budd II) and the 140ft Dubois-designed Vitters-built Gimlä (now Bella Ragazza). "At some stage, we realised that a new era in superyachts was evolving. At the time superyachts were not something you sailed as a professional sailor, because it was still early days racing them. They were difficult to race as we did not understand them well in the beginning."
Some of Christensen's best work came for his old 505 sailor friend Hasso Plattner and his ground breaking Reichel/Pugh designed, Baltic-built 147ft Visione, launched in 2002 and believed to be the first superyacht with planing ability. "That was a big step for superyacht performance. Hasso went crazy about weight, so you had a 147 footer weighing about 120 tons - about 100 tons lighter than anything else that size at the time. It was unique, built for Hasso, with room for him and a few guests, while in the bow we had tons of room for sails. Some professionals, who had been sailing with Hasso on Morning Glory, started sailing on Visione, so we kept optimising her and even today she is still usually the boat to beat among the superyachts."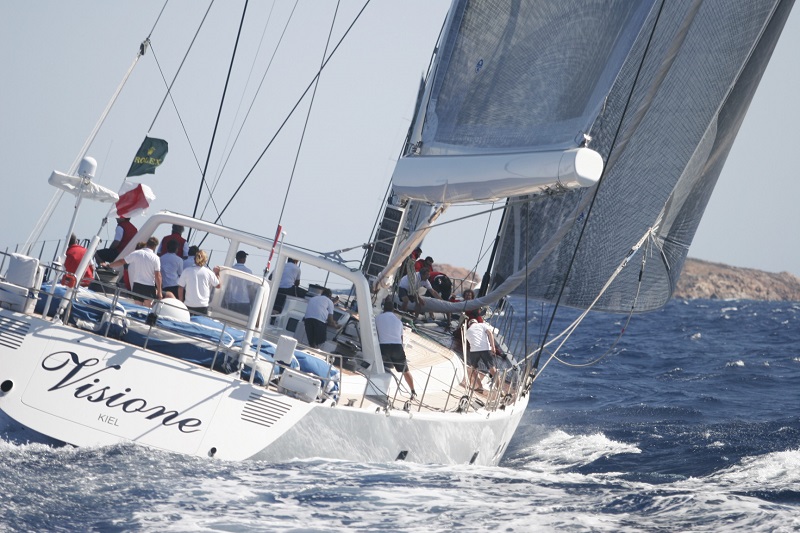 Christensen also raced with the SAP Chairman on his Morning Glory racing maxis, alongside the likes of Russell Coutts. This included three Cape to Rio races, first on an IOR 50, followed by two of Plattner's maxis, a Reichel/Pugh ILC design and in the early 2000s, a canting keel CBTF maxZ86. "It was extremely cool to be able to sail on those boats because there were only three or five of them and that was absolutely the top racing outside of the America's Cup. I can promise you that being with Russell Coutts and a big chunk of Team New Zealand, little Jens from Denmark got to see racing at another level..."
Since then Christensen says he's been involved with around 30 maxis and superyachts although not all of them have raced. He takes equal pride in yachts like the Dubois-designed Vitters-built 213 footer Ahimsa (ex Aglaia) where recalls "when the 100m tall masts were stepped and the sails slotted into the boom, everything fitted with millimetre accuracy".
Today's Christensen's main ride is Visione but also for more than a decade he has raced with Jean-Charles Decaux on board the Wally 77 J One. "We have a really good relationship. I think I am the longest serving member of the crew now!"
As to the secret to keeping maxi owners interested in their sport, Christensen says it is down to their enjoyment, and managing expectations. "It is a combination of the ambition of the owners and the ambition of the sailors. Sometimes it can go too far with the sailors' ambition and the owners ask 'what am I doing? I'm spending millions and not getting anywhere'. But a lot of the pro sailors now understand that certainly in the superyacht scene, you are to a certain extent entertaining. But also it is really import that these boats have professional sailors on board to make sure they get around the race course in a safe way. Most sailors have today learnt that that is almost more important than winning."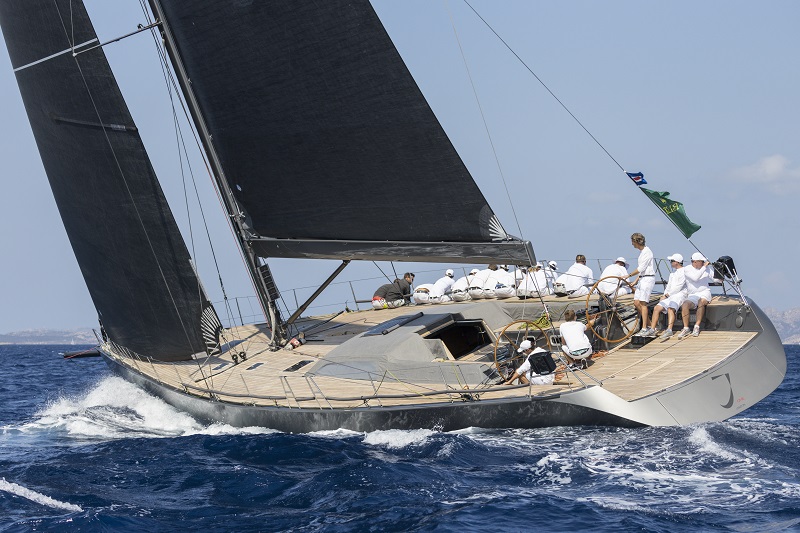 Significantly Christensen observes that racing maxis with pros on board provides an opportunity to demonstrate how the yacht can perform. "Quite often the captain and regular crew are very conservative, because they know how much hard work is involved if something breaks, keeping in mind that the owner will want the boat to be somewhere at a certain time or there is a charter. Through racing, the pros on board can teach them how the boat should perform in different sailing conditions. Obviously they will push the boat, not to the limit but much closer than the regular crew usually do and can show them how the boat sails much better if you sheet the sails correctly and how you can fly a spinnaker or a Code sail without being scared of them, so the owner can enjoy their boat more."
There are also numerous examples of owners buying maxis to keep their family engaged, something always hard when children grow up and fly the nest. The sailing aspect is vital to this.
For those keen on racing their superyachts, choosing the right size is vital, says Christensen. Around 120ft is the current sweet spot for a modern yacht to be small enough to be raced efficiently, but big enough to have plenty of space. Leading the way is the J Class: "They have pushed the limits: See how they handle these boats and how they throw them around the race course – it is unbelievable. They drop spinnakers on deck in less than 30 seconds."
Professionally, Christensen today is one of the biggest guns in the sailmaking world. From running Diamond Sails with his partners Henrik Søderlund and Ib Ussing Andersen, at a time when he says they were "beating North out of the market in Europe except in Italy" they became a North Sails franchise in 1995, taking over all the North lofts in Europe (with the exception initially of Italy) at a time when North was bringing 3DL on line.
North Sails New Zealand merged with their group in 2000, followed by Italy in 2009. Running North Sails Europe at this time were the three original partners with John Welch and Bruno Dubois. Plans were afoot to merge the North Sails European and US operations in 2008 but the financial crash prevented this and ultimately both were sold to Peter Dubens' London-based asset management company Oakley Capital. With both companies now under one roof, they have been streamlining operations to improve efficiency.
For superyachts, Christensen says sailmaking has evolved greatly and today 700sqm mainsails and 2000 sqm spinnaker are not uncommon and North Sails have been busy working out how to incorporate their latest technology 3Di into sails this large. The 3Di construction process, of gluing tapes together (rather than laminating fibres between films) makes it more akin to boat building than traditional sailmaking.
One of the most significant developments over the last decades, Christensen observes is how once both sail and sparmakers were often only consulted while a boat was already in build, today they are brought in much earlier on and are much more integral to the design process.
As to this unusual year, Christensen quips that he has enjoyed not having to go to airports. Denmark dealt with the pandemic well and was one of the first countries in Europe to ease its lockdown. At present he says there is a push to get yacht clubs functioning again locally and for people to get out on their boats. Meanwhile he is waiting patiently to get out on his own Dragon again that is currently down in Palma. He was Dragon European Champion in 2011 and last year was proud to have won the class' 90th anniversary regatta in San Remo, ahead of 162 boats.
While J One is not competing this year, in 2021 Christensen says he is looking forward to competing in the Millennium Cup, coinciding with the America's Cup in Auckland, but warns this is likely to be a smaller affair with many large yachts now staying in Europe thanks to the uncertainty that the pandemic has brought.
(By James Boyd /IMA)