Bella Mente Racing: now at NYYC Race Week and Queen's Cup
Newport, RI, September 22, 2020


It was a long time coming, but Hap Fauth (Naples, Fla.) finally has reunited with his sailing family in Newport, R.I. where he will steer his Maxi 72 Bella Mente in this week's New York Yacht Club (NYYC) Race Week at Newport presented by Rolex and the Queen's Cup that follows it. The five days of racing starts tomorrow, and Bella Mente Racing, comprised of Fauth and 21 other seasoned sailors, has put in some serious practice time on Narragansett Bay these past few days in a lingering northerly that has pumped out winds of 25 knots and higher.

"I'm sure I can speak for all crews and owners when I say we're so thankful that the New York Yacht Club has taken a leadership position in allowing Race Week and the Queen's Cup to happen safely," said Fauth. "Everyone is excited to be out of the house and on the water again."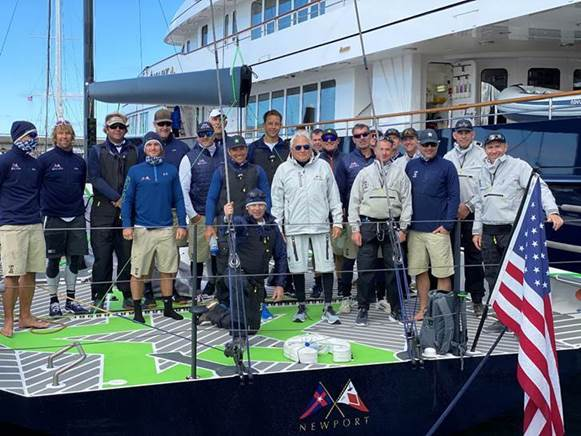 Hap Fauth (center) and his crew are reunited aboard the Maxi 72 Bella Mente and will sail in the New York Yacht Club's Race Week at Newport presented by Rolex followed by the Queen's Cup. (Photo Credit: Amy Laing/Bella Mente Racing)
Fauth last sailed on Bella Mente a year ago August at the 2019 Rolex Maxi 72 World Championship in Porto Cervo. This August, when a 10-day practice session was scheduled for Mallorca, where the boat was preparing for the 2020 Copa del Rey MAPFRE before heading to the 2020 Maxi Yacht Rolex Cup in Sardinia, Fauth and other key crew members could not get there because of Spain's lockdown and both events were ultimately cancelled due to the COVID-19 pandemic.
"It has been like a homecoming here," said Fauth after arriving in Newport. "Everyone couldn't wait to see each other again and do what we love most: compete and have fun on Bella Mente."
In Mallorca, Bella Mente, which was designed by Botin Partners and built locally at New England Boatworks, underwent what Fauth called a "radical change in aero-philosophy." A new keel and bulb were attached, and modifications were made to the mast, sails and rigging. "We kiddingly call her 'Experimente' because she is never the same from one regatta to the next," laughed Fauth.
Bella Mente will be the largest boat in its ORC 1 class at Race Week and most likely will see its toughest competition from the two 52-footers sailing: Victor Wild's Fox and David Tea's Vesper. "This will be our first time sailing under ORC," said Fauth, "but we know we go well with the 52s upwind. They scream downwind and prevail in flat seas while we're better offshore in higher seas, but we also go like heck in the light stuff, which we could have when this northerly runs its course."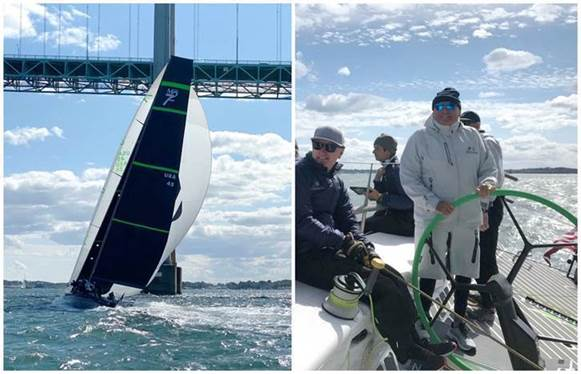 Hap Fauth's Maxi 72 Bella Mente has been practicing this week on Narragansett Bay for the New York Yacht Club's Race Week at Newport presented by Rolex followed by the Queen's Cup. (Photo Credit: Amy Laing /Bella Mente Racing)
As for the Bella Mente Racing Team, it lost its previous tactician, Terry Hutchinson, to the American Magic America's Cup effort (headed by NYYC with Fauth's leadership). He has been replaced by Adrian Stead; however, Stead could not get here due to travel restrictions, so Stu Bannatyne will step into that role. The team's strategist will be Mike Sanderson, who co-helms with Fauth.
Said Sanderson: "Not every one of our regular crew members is here, but it's a bonus to have an extended family, from the last five years of sailing, that we can draw off of." Sanderson, one of four New Zealanders in the crew, will be required to go into a two-week government quarantine when he returns home after Race Week. "I wouldn't do it except for Hap; he is a massive supporter of the sport and the industry, and for all the trouble and effort he's gone to, we are just so excited and thankful for the opportunity to sail with him again and be at this event."
And indeed, no one is as pumped about the sport and racing here as Hap Fauth. "Being on a boat on a crisp September day, with a spray that's still warm on your face, is the best experience that I had as a youth," he said after Bella Mente's Sunday practice sail, "and I still feel the exhilaration of it today as a 75-year-old."
More About NYYC Race Week
The NYYC's biennial Race Week at Newport presented by Rolex is now in its 12th running. While previous editions have featured two parts, this year all competing yachts will race at the same time with racing running from Wednesday, September 23, to Saturday, September 26. Different course configurations and sailing areas, such as buoy racing and mid-distance courses, will make the week lively for competitors, while the Stadium Sailing will allow spectators to watch the racing from Fort Adams.
More About the Queen's Cup
The Queen's Cup, typically sailed at the end of the NYYC Cruise, will be sailed the day after Race Week (September 27), also under ORC. It has a unique starting system in that each yacht may start within a two-minute window of the starting gun and its actual elapsed time will be used to calculate its corrected time. This is one of the Club's oldest and most prestigious trophies with a notable list of winners.
For more information, visit http://bellamenteracing.com/.
Report by Barby MacGowan
Media Pro Int'l, 41 Memorial Blvd, Newport RI, 02480, US