FlyingNikka debuts at Maxi Yacht Rolex Cup
Porto Cervo, September 2, 2022

One of the most anticipated race boat debuts is that of the first fully foiling maxi yacht - Roberto Lacorte s FlyingNikka - at the Maxi Yacht Rolex Cup.

To describe FlyingNikka as a 60ft version of an AC75, the genre of flying monohull currently used in the America's Cup, is close, only there are some significant differences. FlyingNikka has a conventional mast and rig set-up (rather than the AC75's D-section mast and double skinned mainsail) and a modest keel fitted purely to comply with Offshore Special Regulations (AC75s have no such keel). While AC75s require grinders or cyclists to power their hydraulics, FlyingNikka simply has an engine to drive them and push buttons to operate them. There are less restrictions on what her hydraulics can do and how many of its functions can be automated - such as adjusting the rake of the foils or more generally stabilising and adjusting ride height. Significantly Lacorte's ambition for FlyingNikka is to race his awesome machine not just inshore, but offshore too.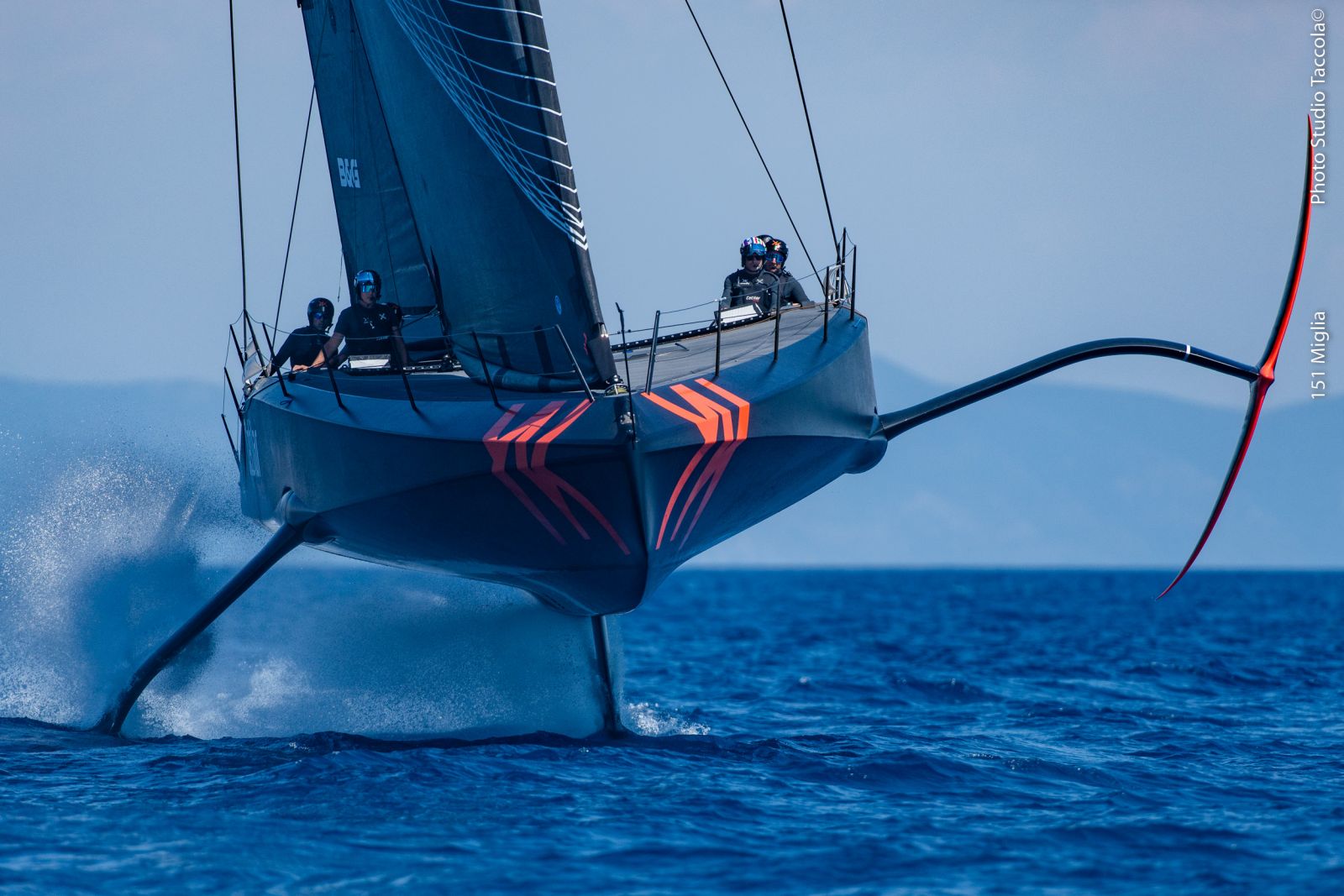 To recap a little, FlyingNikka has been built by King Marine in Valencia and is the product of a team gathered by Lacorte, comprising North Sails' Alessio Razeto, Lorenzo Bressani, Enrico Zennaro, Andrea Fornaro, Lorenzo de Felice and Fabrizio Turini. The design is led by Mark Mills, with Nat Shaver (ex-Emirates Team New Zealand/American Magic and now with INEOS Britannia) on foils and Micky Costa project managing. R&D is being carried out by KND with PURE handling the engineering.
Launched this spring, it was surprising, even for the team, was how readily FlyingNikka 'flew' straight out of the box, in fact on their first day of sea trials after her launch in Valencia. She was formally unveiled to the public and christened at a ceremony at the end of the 151 Miglia-Trofeo Cetilar in Punta Ala at the beginning of June.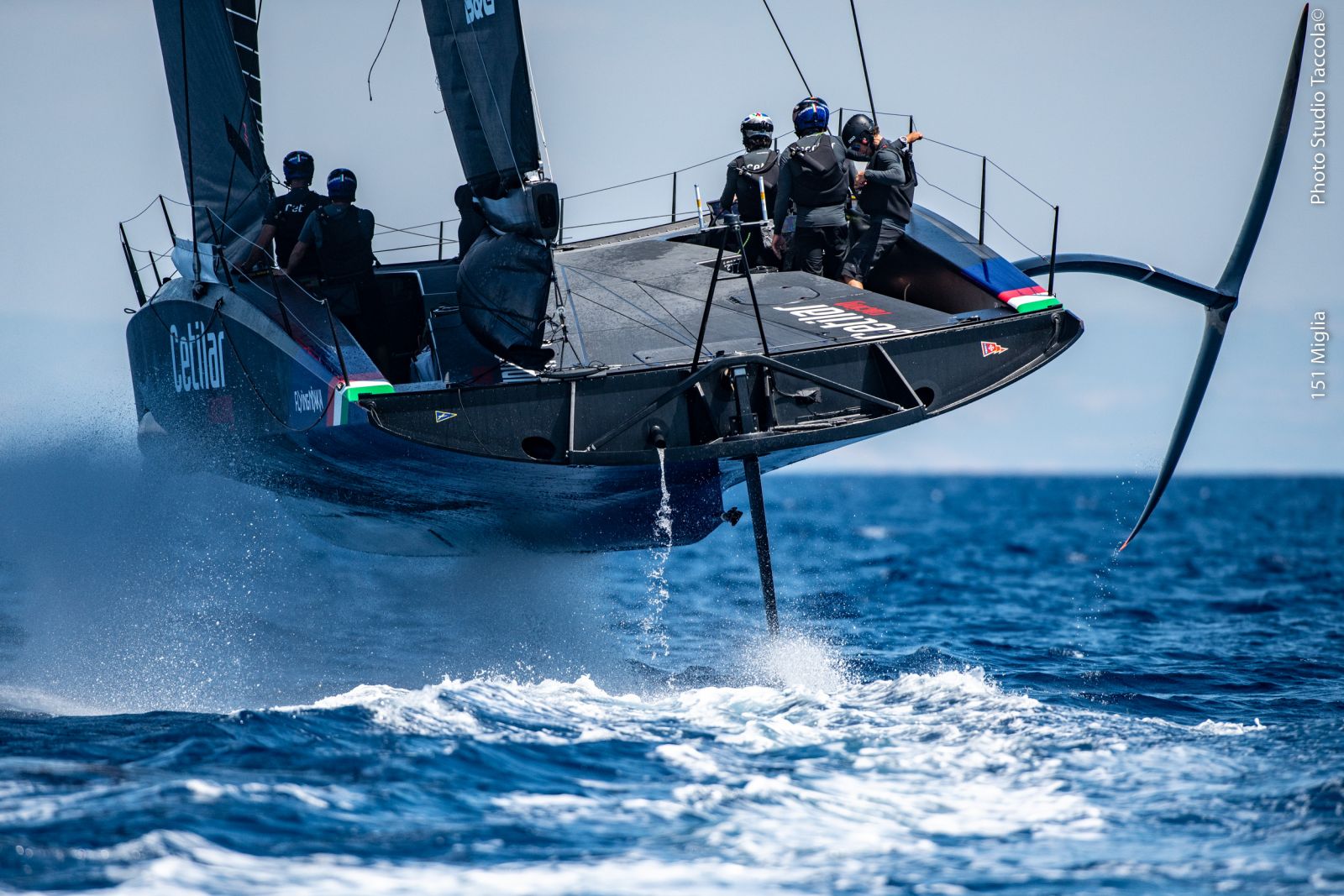 Since then it has been training, training, training for Lacorte and his team as they attempt to work up FlyingNikka, developing straight line speed in all conditions, including times when the wind is too light to foil; learning about the all-important transition between foiling and displacement mode sailing; how best to carry out manoeuvres, to ensure they will be able to perform both foiling gybes and tacks in ever less wind speeds; developing automation systems, etc. And all this is just the tip of the iceberg.
"We did a lot of work during July and our training produced a lot of data," says Lacorte. "Right now we can say that the boat, in terms of performance, is ready. We are trying some solutions regarding sails because we got a lot data about how we should develop them. And we have to improve managing the boat during tacks and gybes. In flying mode we are very happy, but we have to improve how we sail in displacement mode. We know that that is the worse position for the boat."
It seems FlyingNikka needs around eight knots of wind in order to fly (AC75s need around six) and Lacorte is coming to terms with some of the oddities of sailing such a fast boat, that will often happily exceed twice wind speed and, as a result, produces insane amounts of apparent wind. Effectively while she is up on her foils and even sailing downwind, Flying Nikka's apparent wind angle (AWA) will rarely ever be more than 50° and upwind can be as little as 19°.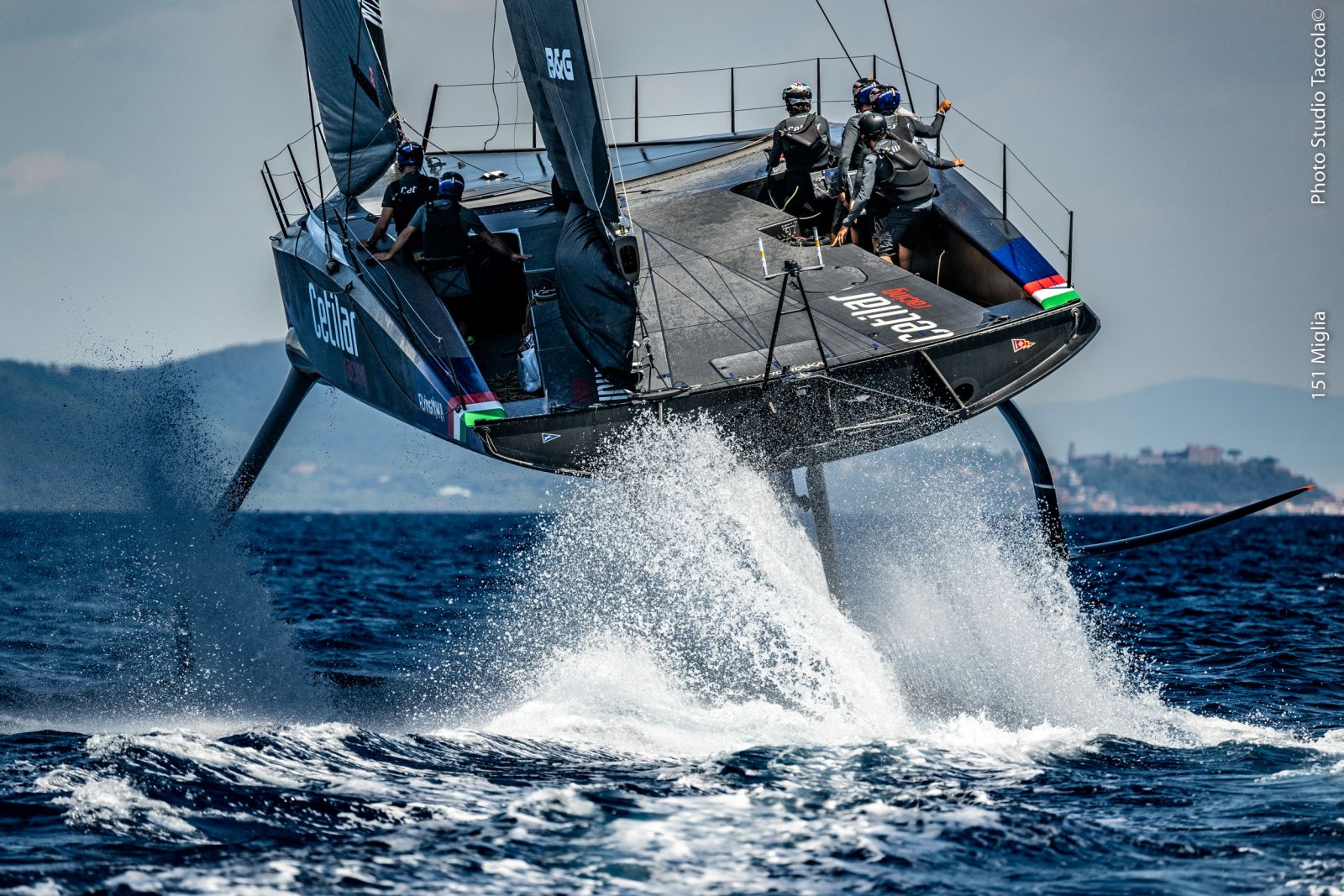 While fast, FlyingNikka is unlikely to achieve the 50+ knot speeds of the AC75, at least not in the mode she needs to be in for racing. To date, says Lacorte "we have touched 35 knots, but we have to approach this step by step. We have to check constantly to understand how we can manage the maximum loads on some parts of the boats where the loads can be very high." Fortunately FlyingNikka is covered in load cells and this, together with performance data, is beamed back to the team's chase boat where it is monitored in real time, much like the telemetry system in Lacorte's Le Mans race car. Typically while they sail with a crew of six crew, another six are on the chase boat constantly monitoring the data sent back from the boat.
Ultimately Lacorte says FlyingNikka will be capable of 40-41 knot speeds and higher than this is not really on the agenda. Generally in the world of foiling compromises must be made and high end speed usually comes at the expense of light wind performance and given that FlyingNikka's playground will be the Mediterranean… This significantly impacts on all aspects the design, most ostensibly on the size of the foils' lifting surface which are typically larger on FlyingNikka to enable take-off in lighter winds compared to an ultimate speed machine that might only sail in stronger winds, with a higher take-off speed on which the foils could be smaller.
But in fact going fast is the easy part. Where the majority of FlyingNikka's development effort is being channelled is into improving her performance in lighter winds. According to Lacorte they have particularly focused on their performance in 12-14 knots of wind in which they should be comfortably achieving 30 knots.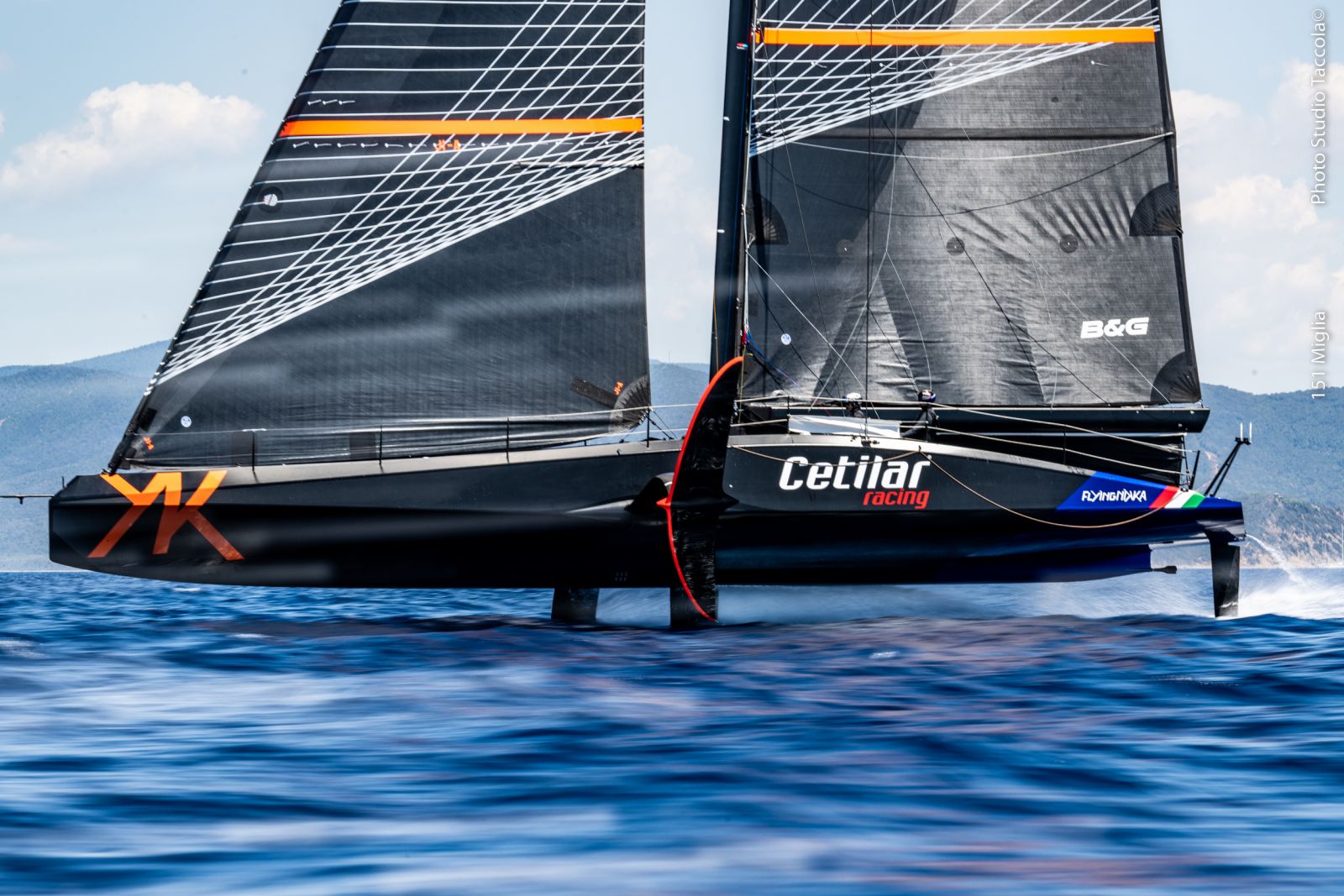 Typically waves are not a friend of foiling yachts. Temporary immersion creates sudden deceleration, placing huge loads on the boat not to mention hurling the crew around. However Lacorte is both pleased and slightly surprised how well FlyingNikka currently handles waves, partly thanks to the AC75-style 'bustle'. This is the skeg that runs fore and aft, bow to stern for the full length of the underside of the hull and is said to ease the transition between foiling and immersed sailing. "Because the boat flies high we've found we can sail in a two metre sea." Then there is the whole of idea of the hull flying just above the water producing the phenomenon of 'ground effect', a low-drag cushion of air on which the hull floats.
All foiling boats require slightly different techniques to perform manoeuvres well and ideally remain airborne if conditions allow. "You have to move and steer a lot," explains Lacorte of the crew dynamics. "It is different compared to a normal boat." It is necessary to maintain flow over the foil, to keep pressure on it, and carry out manoeuvres "in a strong fast way. But when you do that you generate incredible G force, like a sports car… You have to hang on otherwise you risk falling off the boat."
To achieve foiling tacks and gybe while remaining airborne Lacorte admits "The boat is ready but we, the crew have a lot of work to do. It is a very different boat, but that is an exciting part of the project - every member of the crew is discovering a lot about new ways to manage the boat. We have very good professionals on board, but every member of the crew is surprised about how much they discover not day by day but hour by hour. It makes the project very exciting."
One of FlyingNikka's biggest speed-sapping features is her keel, which even though it is comparatively light for a 60 footer Lacorte reckons costs them about 4-5 knots of boat speed at the top end. But aside from making FlyingNikka street legal to enter races, the only small benefit it has, says Lacorte, is the power it develops during the transition period from displacement mode to foiling and vica versa.
As mentioned on board FlyingNikka a generator powers the hydraulics and many of the sailing and foiling functions can be automated to a degree not permitted by the America's Cup. This automation system can be endlessly tweaked for different conditions, sea-states and onboard set-ups. "For us it is very important because in a 2-3 hour long distance race we will need a big help from the system."
Following the Maxi Yacht Rolex Cup, the plan is for FlyingNikka to compete in Les Voiles de Saint-Tropez before heading back to the shed to be 'upgraded' as Lacorte puts it. He imagines that in 2023 as well as inshore races, FlyingNikka will start competing in offshores such as the 151 Miglia-Trofeo Cetilar, which he created and the company he runs with his brother still backs, and the Rolex Giraglia before graduating up to longer offshores such as the Rolex Middle Sea Race.
Meanwhile the tooling for FlyingNikka remains in King Marine waiting for someone with the vision, thirst for speed, desire to take a step into the unknown and try yachting's latest technology to the same degree Lacorte has. "There's been a lot of interest," the great man says. "I think they are waiting to see the first regatta - maybe we will see some people in Porto Cervo, but this project is still very new. We would like there to be a second and a third one. If we get to a minimum of three boats then the best thing to do would be to create a box rule. FlyingNikka was made on a budget less than a Maxi 72. Maybe the running costs are the same or higher, but not by a lot."
It will be interesting to see how many maxi owners follow Lacorte down this path.
(Words by James Boyd, IMA)