Sweden dominates as H20 is unbeaten at the Maxi Yacht Rolex Cup
10 September 2022

The final day of racing at the Maxi Yacht Rolex Cup, pinnacle of the International Maxi Association's race season looked marginal due to a well forecast Mistral. Nonetheless the Yacht Club Costa Smeralda's race committee, led by Peter Craig, made a valiant effort to hold a final short coastal race for the 46 maxis, advancing the start by two hours to 1000 and shifting the start area south away from the Costa Smeralda's strongest winds. Sadly it was to no avail: As the gun went for the Maxi class start, so the AP flag was hoisted and racing was abandoned.

Andy Beadsworth, strategist on Velsheda, a J Class with a 52m tall mast, observed: "As we pulled the mainsail up the wind hit 28-29 knots. Ultimately it was a solid 25-26 gusting 30. It was a good effort and we were all in, but it was the right call."

Yesterday Svea had won the J Class competition with a day to spare as did the Swan 115 Shamanna in the Super Maxi class. By coincidence both are Swedish owned. The owner of Shamanna was delighted: This was the first occasion he had won a race with his Swan 115 (although he has with his Spirit Yachts 100 Gaia at home in Sweden). "We have been training quite a lot and it came together very nicely this time with great crew work. This is a great regatta with all these powerful boats and the scenery is beautiful. I like the coastal races – a lot of things happen in them and there is a lot of interaction when the boats come together."

Shamanna's crew is a mix of the owner's friends and pros led by British former America's Cup and round the world race sailor Guy Barron. With several Super Maxis withdrawing with gear failure, the Super Maxi class was war of attrition. "Coming to Sardinia, your boat has to get around the course – that it is one of the big things," said Barron as the party was getting started on Shamanna's aft deck. "A big hand to the crew and skipper Chris Brand to put this together and not break anything. This is the fourth time I have won at the Maxi Yacht Rolex Cup and my first time in the Super Maxi class. We'll definitely come back and do it again."

The toughest competition came in the biggest class, the Maxis (LH: 24.09-30.50m). Going into the final day Lord Irvine Laidlaw's Reichel/Pugh 82 Highland Fling XI was seven points clear of David M. Leuschen's Wallycento Galateia with Andrea Recordati's Wally 93 Bullitt a further four points adrift in third.


These results standing came as relief for Lord Laidlaw, whom, while leading last year, witnessed victory slip through his fingers due to a broken forestay. "I decided to hold on to the boat for another year just to finish with this wonderful boat on a high. This event has been really perfect - great competition, with fantastic racing. The Maxi fleet is very high quality – of all the years I have been coming to the Maxi Yacht Rolex Cup, this is the finest fleet, so it is especially good to win against them. As always Porto Cervo has proved to be the best place in the world to race."
In fact if racing had occurred today it might have proved difficult for Highland Fling XI as their J4 headsail tore during hoisting. "We would have loved to race today, but it would have been difficult to put up the J3 in that much wind. With 28 knots at the start and 30 knots at Charlie and Uniform marks, Peter [Craig] made the right decision."
After 13 years this was Highland Fling XI's final regatta with Laidlaw as she will be racing at Les Voiles de Saint-Tropez under new ownership while Laidlaw turns his attentions to racing multihulls with the launch of his new Gunboat 80 catamaran due next year.
While Jim Swartz's Vesper sealed the deal in the Mini Maxi 1 class for the former Maxi 72s, the leaderboard was closest going into the final day in Mini Maxi 2 with Alessandro Del Bono's Reichel/Pugh ILC maxi Capricorno one point ahead of the IMA's 2021 Yacht of the Year, Luciano Gandini's Mylius 80 FD Twin Soul B, with Sven Wackerhagen's Wally 80 Rose three points behind, tied in turn with Jean-Pierre Barjon's Spirit of Lorina.
With racing abandoned today, Capricorno defended her title from 2021. "It has been very close with Twin Soul B, which sailed very well," admitted tactician Flavio Favini. "It was a good competition - a bit of everything, light air and windy, but unfortunately no race today. It would be very interesting to see the performance in the high wind." Her victory this year marks the 25th anniversary of when, as Hasso Plattner's Morning Glory, she won her first Maxi Yacht Rolex Cup. Today, as an ILC maxi, she lacks beam and reaching potential compared to her newer rivals. Winning this year's event, with plenty of coastal course and reaching conditions is a testament to her highly experienced crew, many of whom competed with Del Bono's father Rinaldo in his winning Admiral's Cup team in 1996.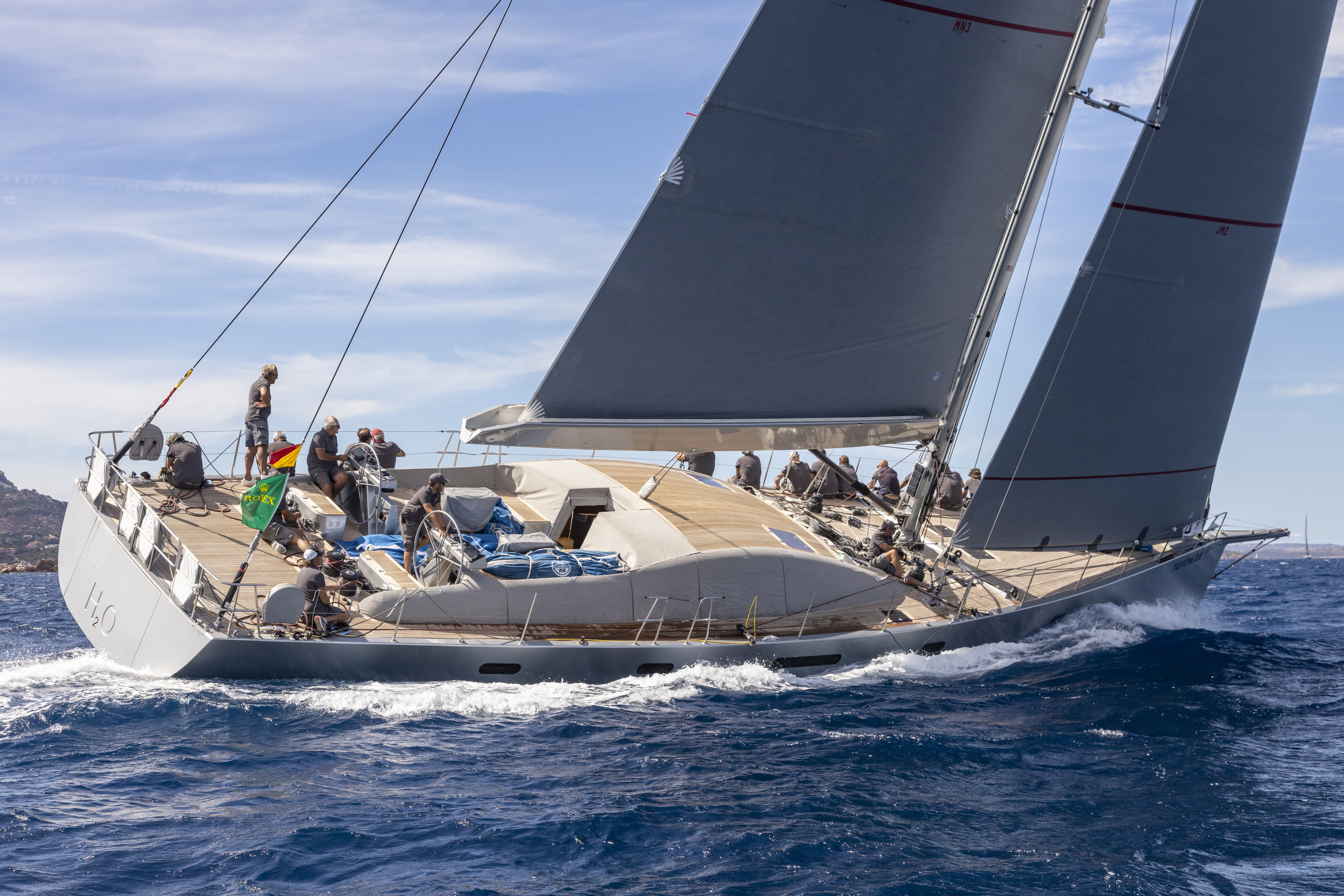 Conversely Mini Maxi 3-4 was where Riccardo de Michele's H20 scored the biggest win, the only yacht to post a perfect scoreline. Much of the reason behind H20's extraordinary performance comes down to sheer hard graft: Her persistent owner has entered H20 in every edition of the Maxi Yacht Rolex Cup since 2007. De Michele's competitive touch paper was lit when H20 finally won the last race of the 2014 Maxi Yacht Rolex Cup. Since then the silver Vallicelli 78 has been serial class winner here - in 2015, then 2017-2019 and finally this year, finishing third in 2016, 2019 and 2021.
"I am very proud of my team and of my boat," commented de Michele. "This week was really lovely and very interesting from a sailing point of view. I think that the Jury took the right decision when they cancelled today's race – the wind was getting too strong. But otherwise we enjoyed winds that are typical for Porto Cervo in September, that we like a lot."
At this afternoon's prizegiving, held in the Piazza outside the YCCS's clubhouse in Porto Cervo, the class winners received their Rolex timepieces while the owner of the Wallycento Galateia, David M. Leuschen, was awarded the trophy for the best placed IMA member.
In summary Andrew McIrvine, Secretary General of the event's co-organiser the International Maxi Association commented: "This event, the pinnacle of the maxi year, continues to assemble the world's most impressive and varied collection of racing maxis. We have seen a near record level in numbers but have surpassed all previous records in terms of quality, including the very latest designs, like Nautor's ClubSwan 80 to the most extreme, as exemplified by FlyingNikka.
"Competitors keep returning for a range of reasons: Excellent race management; close racing within a testing range of courses, often in narrow channels between islands with spectacular scenery. Although we have strict owner-driver rules, these owners are supported by the world's very top sailors, tacticians, navigators and crews."
Next year the IMA and YCCS intend to dispense with the Maxi and Mini Maxi classes and their 80ft length division. Instead yachts of 60-100ft will simply be grouped together with similar IRC TCC ratings. "This will help improve the fairness of the racing and the enjoyment for all competitors," McIrvine concludes.
by James Boyd / International Maxi Association