Dramatic but slow motion start to Rolex Middle Sea Race
Valletta, Malta, 22 October 2022

While there was much anticipation for what is probably the greatest of starts in all yacht racing, Rolex Middle Sea Race departured today from Grand Harbour, Valletta, was something of a zero wind driftathon, especially for the first classes to be sent off. The start of this race, the first in the International Maxi Association's 2022-23 Mediterranean Maxi Offshore Challenge, is as much an annual fixture in the Maltese calendar as the Boxing Day start of the Rolex Sydney Hobart is in Australia. Spectators crammed onto Valletta's ancient ramparts and forts around the harbour's perimeter where, from 1100 on, they were able to witness the explosion of Howitzer fire, traditionally used as the race's start gun, sending the boats down the harbour and off on their anti-clockwise lap of Sicily.

The usually speedy multihulls were first away with Snowflake nosing slowly into the lead, her fraction of a knot of extra pace perhaps due to her having a wingmast 2m taller than the 'standard' MOD70 one design configuration. Seeing the five MOD70 trimarans setting sail was nonetheless impressive, the first time this number has been on the same start line in almost a decade.

The five MOD70s competing are Riccardo Pavoncelli's Mana, race veteran Giovanni Soldini on Maserati and France's Eric Defert on his newly acquired Axciss, plus Zoulou and Snowflake, who have new owners respectively in France's Erik Maris and US-based Dutchman Frank Slootman. Both are enjoying not only their first Rolex Middle Sea Races but also their first ever MOD70 races, having only recently acquired their grand prix offshore racing weapons.

Maris, who also campaigns a GC32 foiling catamaran, said he was greatly looking forward to the race: "Incredible crew; incredible boat, but not much wind. But for a first one that might not be so bad." Among his accomplished crew are those who also sail with him on his GC32 and French multihull legend Loick Peyron.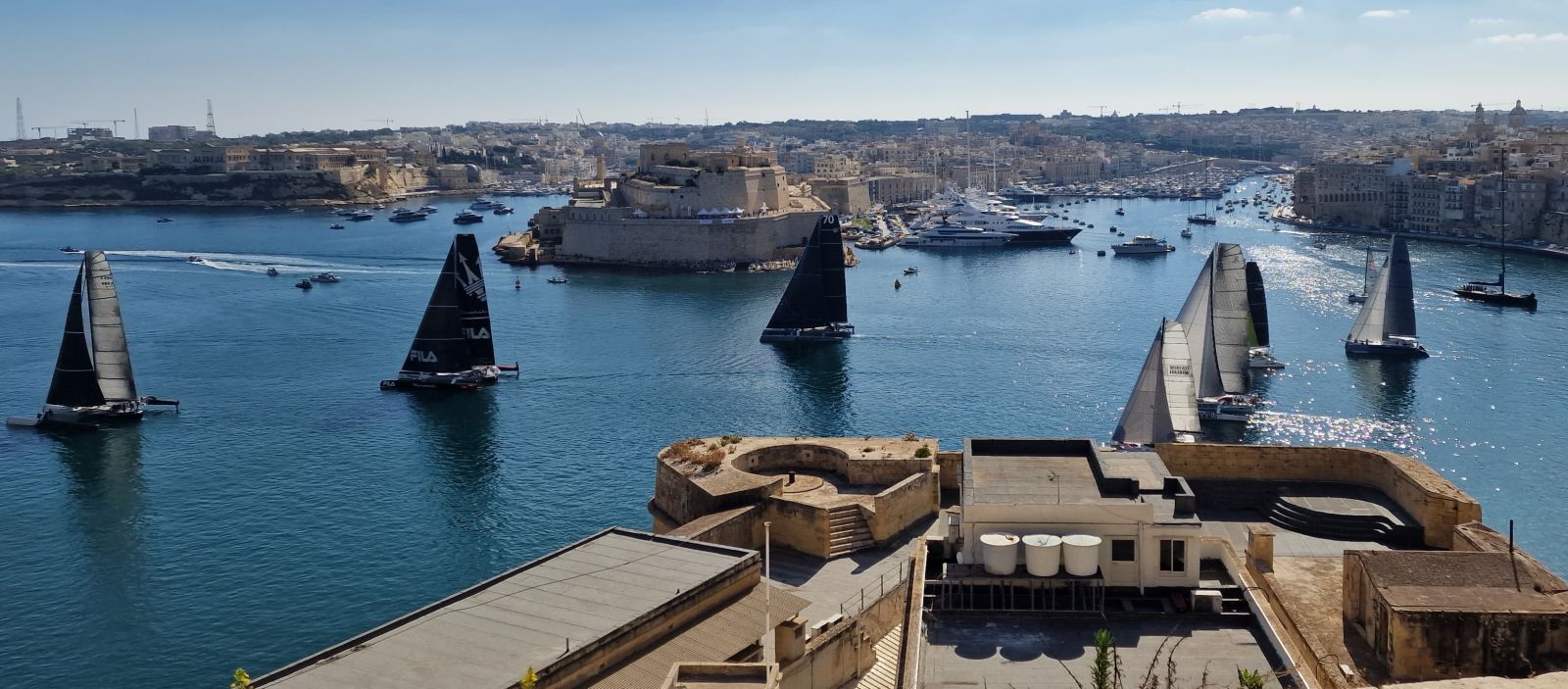 "The race looks exciting and beautiful," continued Maris. "I have been around the north of Sicily and seen the islands and the volcanos. What is great here are the five MOD70s - when I bought this I didn't think we would get that many." As to the light forecast he added that he has a flight back to Paris on Tuesday mid-afternoon. "But I don't think it will make it…"
Frank Slootman was also eager to get going. "I just love the venue, the Strait of Messina, the scenery and how difficult it will be because we have to go around Sicily so we will see every condition known to man, including volcanoes, so it will be a very interesting race." While he comes from successfully campaigning his Pac 52 Invisible Hand, in which he won the 2017 Transpac, unlike Maris, he has had less experience of multihulls and their supersonic speeds. "Yesterday we were doing over 25 knots in 12 knots of breeze…and we didn't even have the big sails up! 14 knots seems really slow on those boats. After monohull racing, it is a learning curve but that will be the enjoyable part of the journey. It is very different technology."
At the front of the monohull fleet, a battle is expected between the Farr 100 Leopard 3, the longest boat competing, and Andrea Recordati's newer Wally 93 Bullitt. The latter is lower rated under IRC but could it be more of a weapon given the ultra-light forecast? Among an all-star cast on board the sleek dark grey Wally is towering Dutchman Marcel Van Triest, one of the world's most sought-after navigators, who usually races on the Wallycento Magic Carpet Cubed. Incredibly for someone with so many miles under his belt including several round the world races, this is his first ever Rolex Middle Sea Race. "It was on the bucket list! I very often do the preparation for this race for other people. Magic Carpet never does it and it is close to the French races." Upon his return van Trieste will leap from Malta straight into working on the routing for several top entries in the singlehanded Route du Rhum.
As to the fight with Leopard he observes: "Maybe we are quicker than Leopard in the light and maybe if that is the case we could be ahead of them by the time we get to Palermo because I think from there on it will be a case of the rich get richer. We know Leopard is faster reaching. Hopefully we are better at drifting!"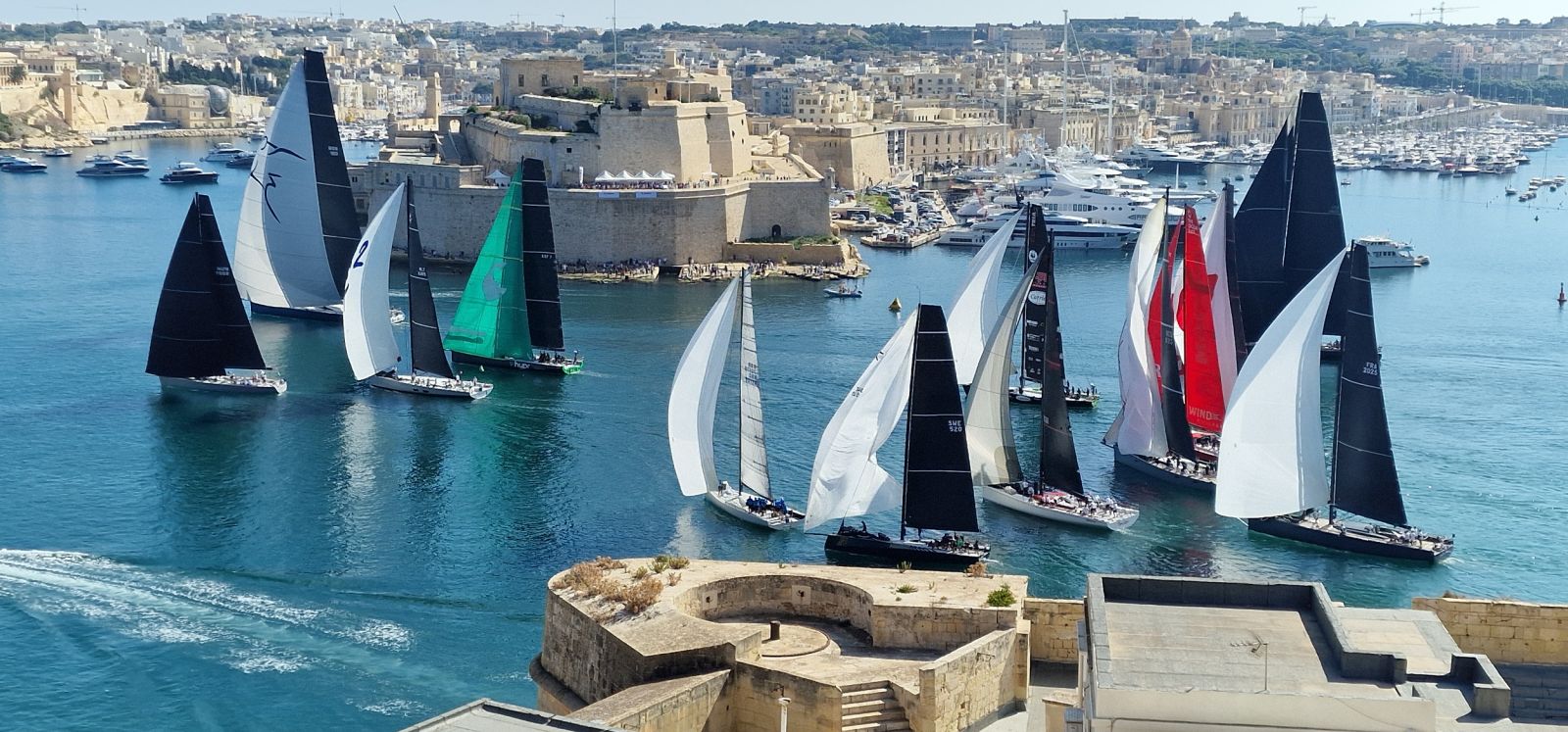 On board the Martin 72 Aragon of Dutchmen Andreas Verder and Arco Van Nieuwland, French navigator Olivier Douillard was expecting to finish on Wednesday (ie around four days) however this came with provisos. "It happens and you have to manage that," he said of the ultra-light wind forecast. "But there are a lot of mountains and anything can happen. The race is very good because although it is 'offshore', it is like a coastal race which takes a few days. And there's current."
Andreas Verder was one of several crew moping on the dock this morning. Given the light forecast many teams have shed crew to help keep their boats light while others, like Verder, have had to stand down due to the race's anticipated long duration this year due to the light forecast - unable to spend so long at sea due to business commitments.
Former America's Cup helm and match racer Paolo Cian, racing here as tactician on Guido Paolo Gamucci's canting keel Mylius 60 Cippa Lippa X said they were going with their full compliment of crew. He is a big fan of the race. "It is a real long offshore race where you have many points where decisions can make a big difference. This time the weather is ultra-light so it will be longer than usual. We are expecting more than 100 hours."
For the frontrunners, after getting away from Malta, they were expecting the wind to veer en route to Sicily at which point they would gybe. The pressure was forecast to hold until they got to the Strait of Messina, between Sicily and the toe of Italy, where they were expecting to be upwind in around 12 knots. The troublesome part of the race forecast was after this - getting up to Stromboli and then heading west across the top of Sicily, where many forecasts are indicating long periods of zero wind thanks to a ridge parked directly over the race track. Fortunately the MOD70s and the larger maxis have rigs so tall that the top of the mast can usually find wind aloft that those on the smaller boats can't. As Van Triest recognised, once past the northwest corner of Sicily the wind should fill in and the frontrunners can expect a beat south past Pantelleria and on to Lampedusa, before a broad reach back to Malta and the finish line.
(Race report by James Boyd / International Maxi Association)
Event' website: www.rolexmiddlesearace.com