Snakes and ladders MOD70 race ends in photo finish
25 October 2022

Rarely has an offshore yacht race proved such a game of snakes and ladders as it was for the five former MOD70s in the Rolex Middle Sea Race, the first three of which finished in the early hours this morning (25 October). Thanks to the wind going soft approaching Valletta, Riccardo Pavoncelli's Mana hung on to take line honours deservedly at 00:32:32, followed just 54 seconds later by Erik Maris' Zoulou, and 10 minutes later, Italian Giovanni Soldini's Maserati. This was a good start to the new era of MOD70 racing, with five racing here for the first time in a decade, several now under new owners.

Unlike last year's record-breaking race, this year's anti-clockwise lap of Sicily was well forecast for being generally light. On Saturday at 1100 the MOCRA class, including the MOD70s, started, but, in almost no wind, made slow progress out of Grand Harbour with Frank Slootman's Snowflake leading.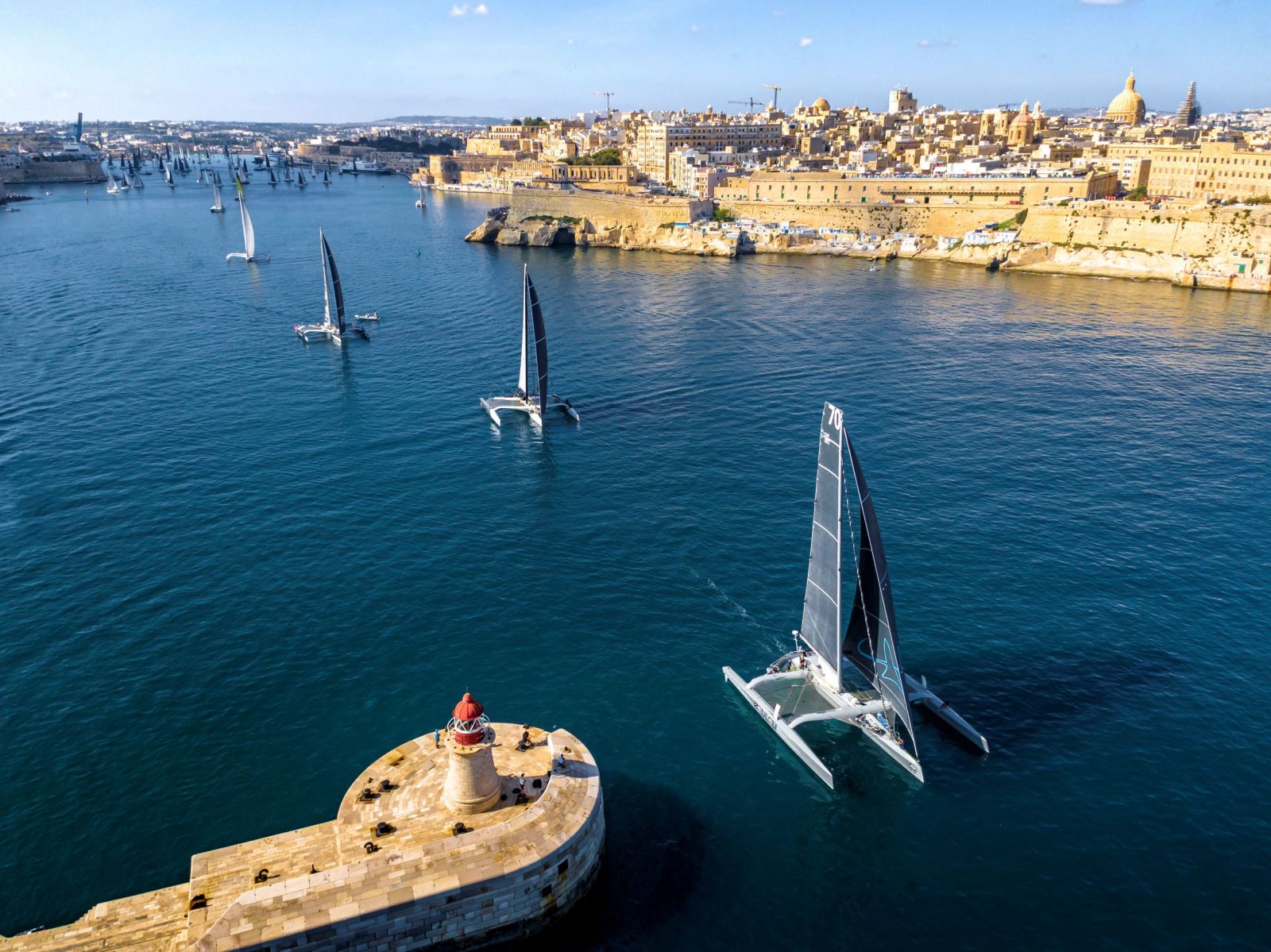 Out to sea, Erik Maris' Zoulou was the first to commit to the long port gybe north and was first to reach Capo Passero, the southern tip of Sicily, at 1830 on Saturday night, albeit closest inshore, followed by Snowflake and Mana, with Maserati and Eric Defert's Axciss having fallen behind. As Zoulou was forced to gybe east, Mana took the lead, which she never relinquished, despite several close calls.
Around 2300 Saturday, the lead trio were approaching the Strait of Messina from the east, the wind veering north, putting them on the wind. Through here Mana managed to remain just ahead of Zoulou, the two emerging from the Strait 20 minutes ahead of Maserati and Snowflake. It was a scary ride, especially for the uninitiated such as Vendée Globe skipper Alexia Barrier on Mana, sailing her first MOD70 race (but not her last – she is in the process of acquiring Mana to use as a training platform for her Jules Verne Trophy campaign, 'The Famous Project'). "The first night when we were doing 30 knots in the dark through the Strait of Messina, I was glad to be with these guys," she said.
Unfortunately the leaders ran out of breeze on Sunday morning, but Mana was first into slight pressure, enabling her to round Stromboli at midday with a 25 minute lead, all the MOD70 still only making a pedestrian 5-7 knots. Heading west off northern Sicily, Snowflake split south as the other stayed well north with Axciss coming in from astern with pressure.
The snakes and ladders got worse overnight. Mana was first into the forecast southerly pressure pulling out a 15 mile lead, only to be becalmed off Capo San Vito Mana (west of Palermo). The trio behind closed in, reducing Mana's lead back to 6 miles. However she had cleverly remained offshore and, as the wind once again filled in for her, so the others parked. By the time the breeze returned for them, Mana had reached Trapani's Egadi islands 24 miles ahead.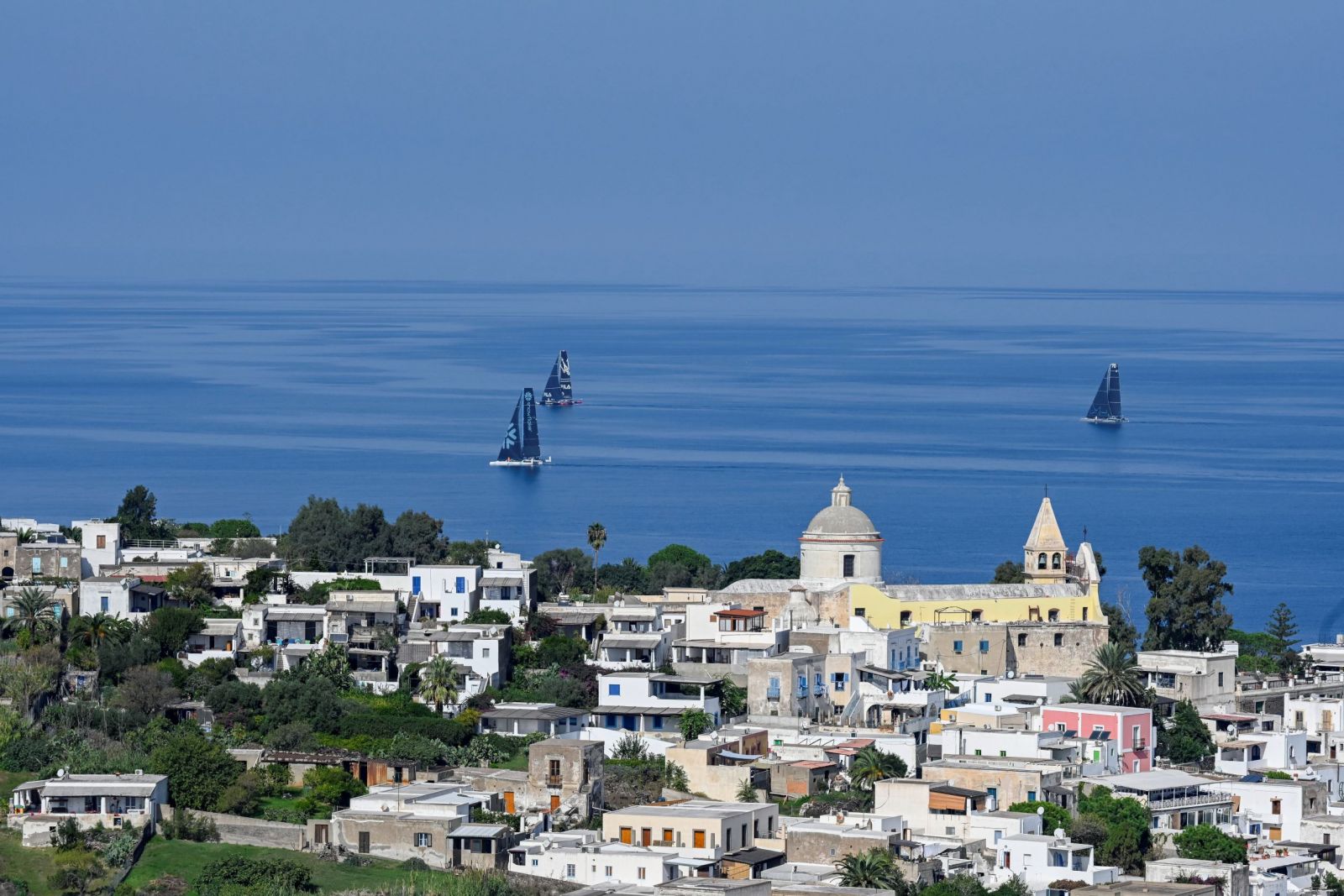 Not all were so fortunate, as Maserati remained wallowing off the now overly familiar Cape for another hour. "We got stuck a lot," recounted Soldini. "We were there with no wind and Zoulou was 50 metres away. Then they got a puff and off they went…"
As the boats headed south towards Lampedusa the order seemed settled: Mana 18 miles out front, Snowflake and Zoulou match racing for second, with Maserati fourth another 18 miles back. Yet Maserati fought back, in 20+ knots of breeze west of Sicily. As Mana led past Pantelleria at 0800, Maserati had caught Snowflake (which had suffered a broken bowsprit) and was just 20 miles off the lead.
Erik Maris told of Zoulou's ride south: "We were beating into waves at 20 knots in 20 knot winds... The whole night was a bit rough but I did a bit of helming..."
For the run back to the Comino Channel, west of Malta, Mana and Zoulou stayed east as Maserati played the west where Soldini felt they were more lifted. Entering the Comino Channel, Mana still held a four mile lead while Maserati had closed so much she almost crossed Zoulou. But the race was still not over: Mana and Zoulou stayed close to Malta's north coast, while Maserati headed offshore making 11 knots as the wind faded for the leaders who were making just four. "But not enough!" as Soldini put it. From 30 miles behind, Maserati finished just 10 minutes behind. "We are very happy because we improved a lot our capability to stay up with the others in light winds," said Soldini. "Upwind we are very happy. The boat has good potential. It was very nice to race with all of the other boats. I am pleased Mana won because they deserved it and they sailed a fantastic race with very few errors."
For Alexia Barrier on Mana, the finish was nail-biting. "It turned into a game of Chance - stay inshore or sail a straight line? If they go offshore will they have more wind? The usual things in sailing." At the finish Zoulou was less than half a mile astern. "Always in these conditions, when you don't have a steady wind, you don't know what will happen. You have to stay focussed until you've crossed the line."
She paid tribute to the Mana team including "the fastest sailor in the world, Paul Larsen, and the rest of amazing crew which Riccardo [Pavoncelli] put together for this race." Doing a great job on the navigation was another former Vendée Globe skipper Jonny Malbon, assisted by Tom Dawson on tactics. Barrier had previously raced with many of them on the late Sir Peter Harrison's maxi ketch Sojana. "That was very interesting for my first MOD70 race – I learned a lot."
The former Spindrift racing, Mana is one of the few unmodified MOD70s and in the light conditions benefitted from not having the huge lifting foils of her competitors that are heavier and have more drag.
For Zoulou's Erik Maris, despite sailing inshore on some of the world's most high performance boats such as the GC32 catamaran, this was his first offshore race in many years (in his youth he competed in Admiral's Cups and Fastnet Races). "Racing offshore is very different, almost another sport. Almost everything was fun, apart from Stromboli where we got stuck. It was interesting, easier than I thought it would be on the boat – less dramatic and more comfortable. The crew was great and the boat was fantastic. It was a very good first race."
Next up for the MOD70s will be the RORC-IMA Transatlantic Race starting from Lanzarote on 8th January.