PalmaVela gets underway with day for the fastest and slowest maxis
4 May 2023

The Bay of Palma laid on perfect conditions for the opening day of racing at the Real Club Náutico de Palma's PalmaVela, the opening event of the International Maxi Association's 2023 Mediterranean Maxi Inshore Challenge.

The nine maxis racing here are divided into two classes. Today the faster yachts in the Maxi A class sailed a 33 mile coastal course exiting the Bay of Palma to the southeast in a southerly sea breeze which peaked at around 14 knots. The classic and modern classic yachts in Maxi B sailed a similar but shorter course of 27 miles. Both set sail on time with the first warning signal at 1300 local time.

Among the faster maxis, David M. Leuschen and new co-owner Chris Flowers' Wallycento Galateia, the highest IRC rated yacht competing, managed to win the pin with her principle rival, Sir Lindsay Owen-Jones' Magic Carpet Cubed, tight to weather of her. As tactician Kelvin Harrap explained "it was relatively simple for us after the start because it was left hand track and we got the left. It was going left the whole way across so there weren't many opportunities for the boat behind today because there was a lot of reaching. I am pretty happy with how the boat was going, especially downwind."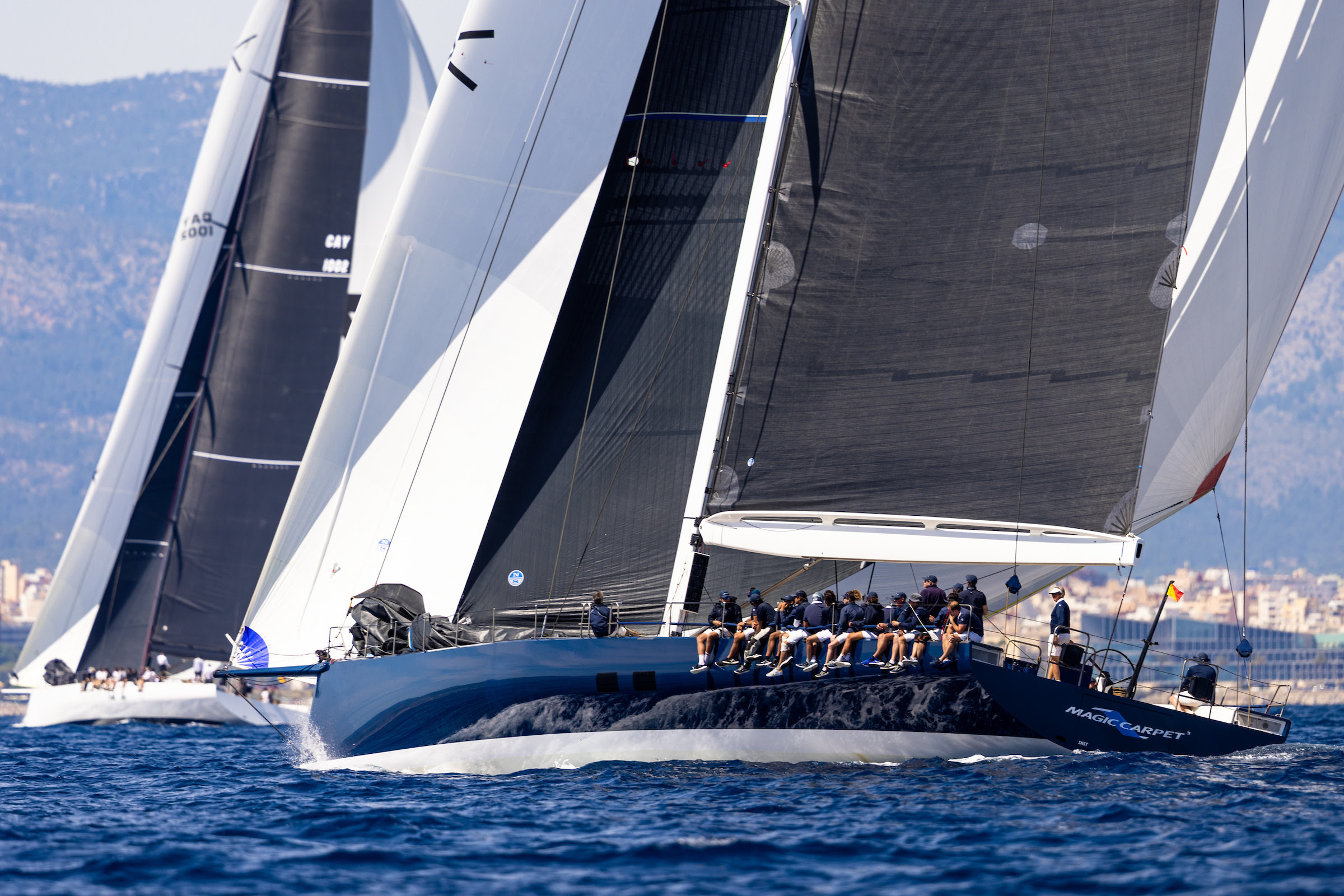 It was not all plain sailing for the American-owned Wallycento as the forecast they had suggested lighter breeze. Then during the race they broke the halyard lock for the jib. "We had to send someone up the rig to get the jib down but it looked like that happened to them [Magic Carpet Cubed] as well," continued Harrap. "We couldn't drop our jib until the last run, but, as it was quite reachy, it became the staysail…by default!"
Despite having not ventured out on the race course since her outstanding 2019 season when she was the IMA's Mediterranean Maxi Inshore Champion, Miguel Galuccio's Reichel/Pugh 84 Vera proved that she has lost none of her potential. In addition to her sabbatical she now has an almost entirely new crew, largely from Galuccio's native Argentina and with only two days of training going into this regatta. Despite being a substantially shorter, older design, perhaps better suited to windward-leeward courses, Vera finished second to Galateia in the Maxi A class.
"Upwind is the power of this boat and our manoeuvre at the pin was okay - we tried to sail safely and we wanted to be sure not to lose time," explained Vera's pitman Nicolas Pesich, who admitted they were surprised to have finished second given the newness of their line-up. "The reaching part was more difficult for us but our conclusion at the end of the day was that things were okay. We are happy with our results today. We hope that every day will be better."
In Maxi B the results were perhaps even more surprising with the exceptional classic maxi Stormvogel winning by 4 minutes 29 seconds under IRC corrected time from Guillaume de Montalier's Truly Classic 90 Atalante, despite being Stormvogel being 62 years old, 48 years older than Atalante.
The Andre Hoek-designed modern classic Atalante had lost some time coming into the start explained skipper Romain Mouchel: "We blew a hydraulic line for the outhaul in the boom two minutes out from the start gun. That made things interesting…but we managed to rerig something and isolate the line."
He added: "We were quite surprised with Anima II's performance upwind. Stormvogel was behind everyone but came back very strongly in the second half of the race. It was a good course, there was good wind everywhere and it was nice. We finished second in class under IRC and it is hard to say if we left four minutes on the course. Stormvogel rates really well…"
Racing continues for the maxis for the next three days on a mix of coastal and windward-leeward courses. On the race course tomorrow they will be joined by ten more classes competing at PalmaVela.
by James Boyd / International Maxi Association
Event website: www.palmavela.com